Gypsum manufacturers' environmental efforts aim at maximizing efficiency and minimizing waste at every stage of the product lifecycle.
Quick Links:
Sourcing from Recycled Material:
The gypsum board manufacturing industry has led the use of post-consumer recycled material. More than 50 years ago, long before recycling became popular, the gypsum board manufacturers began recycling newsprint and other paper to produce the paper facing for gypsum board. Today, nearly 100 percent of the paper used in the manufacture of gypsum board face and back paper comes from newsprint and consumer waste materials.
Each year, the gypsum board manufacturing industry produces or purchases millions of short tons of recycled paper for use as facing and backing material in the production of gypsum board. The gypsum industry's use of recycled paper diverted more than 40 million cubic yards of material destined for landfills, enough to fill more than 10,000 standard railroad cars.
Clean Scrap gypsum board can be recycled both to make gypsum board and for other uses. In some areas, private operators recycle gypsum board, providing a steady stream of material to manufacturers for use in making new board.
back to top
Manufacturing:
Gypsum board manufacturers rely increasingly on flue-gas desulfurization (FGD) gypsum or synthetic gypsum as an effective alternative to natural gypsum. In fact, FGD gypsum was first integrated into the core of gypsum board almost a quarter of a century ago
FGD gypsum primarily is a byproduct of the desulfurization of flue gases in fossil-fueled power plants. This process reduces harmful emissions by removing polluting gases from smokestacks.
By using FGD gypsum in its manufacturing process, the industry supports efforts to make the air cleaner; it puts to use material that would otherwise take up space in landfills.
In 2017, the United States gypsum board manufacturing industry consumed approximately 8.6 million short tons of FGD gypsum —approximately 40 percent of all the flue gas desulfurization gypsum produced in the United States.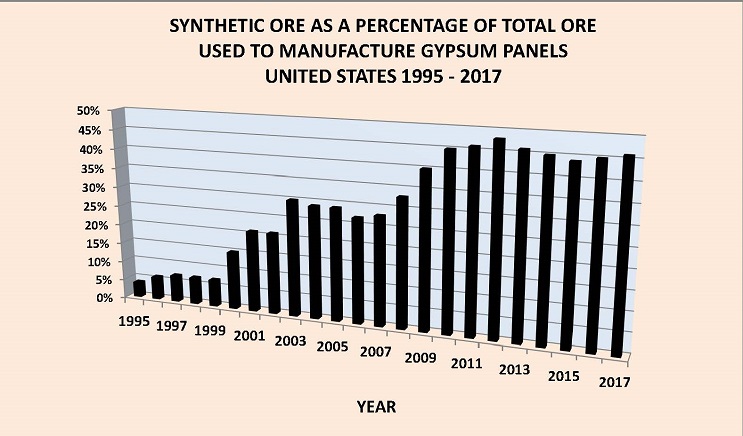 back to top
Energy Use and Efficiency:
New gypsum board manufacturing plants are designed to be energy efficient, and many older plants have received energy- efficiency upgrades. Some manufacturing facilities use co-generated electrical power or heat as part of their operations.
Energy that was previously disposed or allowed to dissipate is now re-captured as part of the manufacturing process at some plants. The ability of the gypsum manufacturing industry to co-generate power and to use renewable energy sources fits well with the requirements of some green building standards. The National Green Building Standard (ICC 700), for example, allows a credit to be offered when major components of the building are manufactured with primary energy derived from "renewable sources, combustible waste sources, or renewable energy credits."
back to top
Water:
Natural gypsum includes chemically-bonded water. Some manufacturing plants recycle water used in the manufacturing process and are nearly self-sustaining in water use. In addition, a number of facilities are certified as meeting green standard requirements for implementing environmental management systems.
back to top
Transportation and Shipping:
A significant percentage of gypsum products distributed in North America are manufactured close to the site where they will be used. This delivers environmental benefits by reducing fuel consumption in transportation.
A significant percentage of the gypsum building material produced in the U.S. is shipped from manufacturing facilities to end-user locations using rail transit. A single ton of freight can be moved over 400 miles by rail on just one gallon of fuel, saving energy and mitigating environmental impacts. Plants are often sited specifically to take advantage of rail transport.
Gypsum board requires minimal packaging for shipment. Board shipped by truck is typically protected by reusable tarps and reinforced by nominal banding. Moreover, the risers used to separate stacks of board during shipping and storage are manufactured from gypsum scrap and can themselves be reused or recycled.
back to top